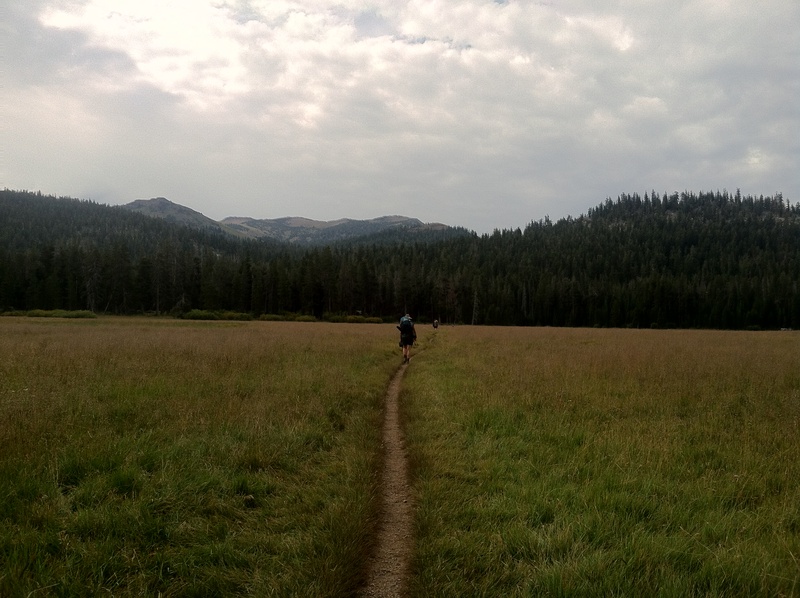 The Pacific Crest Trail is an abstract concept. Just like the number 100,000 or a weight of 12 pounds; 2650 miles is equally as inconceivable. But the PCT has never just been the length of a footpath between Mexico and Canada. Neither is it solely the places it brings you, the ridges it climbs and the valleys it mosies along. Maybe it's the people, the experience of living outside, the hardship, the joy. Whatever it is, the Pacific Crest Trail is something too large and multi-dimensional to grasp fully in my mind.
I've had some awesome conversations with some of my fellow thru-hikers already and I haven't even started hiking. I can only speak for myself, but my emotions are a roulette of 40% panic and disillusionment, What the heck am I doing? What about all the snow? Am I prepared enough? What do I do with my life if I get injured and have to leave?, 50% determination and resolve that this is what I'm going to do and what I want to do so I'm doing it despite the disillusionment, and 10% is excitement and happiness that this is what I'm going to do. I'm not too concerned about the first 40% because this is what I feel for a backpacking trip of any length, even if it's just for overnight. What is going to be interesting to see is if this feeling comes back every time I go into towns to resupply, rest, eat.
T-minus 60 days.
60 days until hiking north. Until waking up in the middle of the night while cowboy camping to see the stars through the slit in my sleeping bag, nose cold, our galaxy spilled across the sky like milk. Heat that makes me wish desperately for a clear stream of snowmelt to dip myself in to wash away my dirt and sweat, and cold that leaves me dreaming of the blanketing heat of the desert floor. Days where my head is in a fog and it becomes difficult to move my legs.
Loneliness. Boredom. Running down a pass during a summer thunderstorm with my new trail friends. The absolute freedom of being able to pee wherever I want (seriously, I miss this a lot). Hunger that makes food taste better than it ever will again in my whole life. Staying up late to play card games sitting in a circle in the dirt, with people I've just met and might never see again. Seeing Sagebrush along the side of the trail and it reminding me of home so that I want to dance and hug it and sing "Home Means Nevada." Actually singing and dancing and singing it out until my heart is full.
Getting to hug a stranger's dog because I'll miss my dogs at home. Calling my mom and crying because I don't think I can do this any longer. Doing it longer anyway, because I was just having a bad day. Breathing through my head net, my skin crawling as I frantically run from a swarm of mosquitos. Praying to run into someone who wasn't too stubbornly idealistic to bring DEET.
Seeing the sun rise and set every day, and its slow revolution across the sky being all that is necessary to tell the time. Losing track of what day it is, whether it's Tuesday or Friday, because really it doesn't matter. Seeing Meiss Cabin and knowing that I'm on my home turf and will see my family soon. Walking north from Tahoe and for the first time not walking towards home but away from it. But at the same time, knowing that the trail is now also my home.
Maybe, if I'm lucky, I'll see a clear-cut strip of trees in the distance, the Canada border, and know that my journey is almost done.