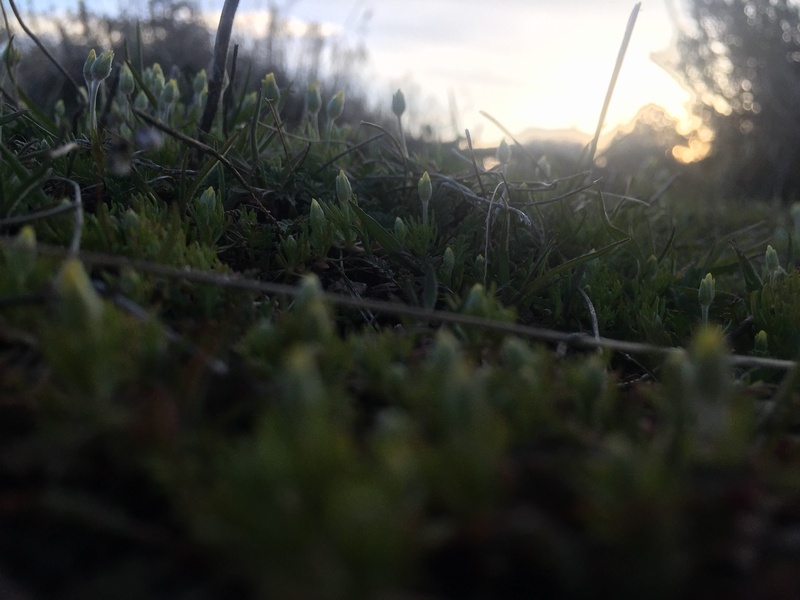 "Much after a beginning is difficult, as anybody knows who has crossed the sea, and as for the first step a man never so much as remembers it; if there is difficulty it is in the whole launching of a thing… The first step is undertaken lightly, pleasantly, and with your soul in the sky; it is the five-hundredth that counts." -Hilaire Belloc
23 days until I stop working. 28 days until I say goodbye to my family and step onto a bus for San Diego. 30 days until I start walking north.
It's all slowly settling into place.
Paperwork and starting logistics are done. My long-distance hiking permit, my California fire permit, passport, Amtrak tickets, San Diego plans, and Canada entrance permit are all finished.
My gear is almost there. I now have my food bag, Spot (GPS tracker and emergency beacon), and my micro-spikes for crossing snow. I tried on some Altra Superiors at REI to get my shoe size, so I can order a lighter color online for hot desert days ("Can I try a Men's 13, yes I have big feet, yes, these shoes make my feet look small"). Now all I need are an ice axe, my shoes, and some fresh toe socks and water bladders. It's looking like my base weight will be just above 13 pounds (not including water, food, fuel, and map weight). I'm happy with it, and it will probably drop some more once I start getting rid of things when I'm hiking. Or increase as I decide to carry dog treats in my hipbelt for chance opportunities. I'm not switching anything big out at this point, and will just wait until I start hiking to decide what I want to change; there really isn't any point to mulling over at-this-point theoretical decisions.
I'll begin constructing my resupply boxes the week or two before I start, although I have a lot already collected and sitting in a Trader Joe's bag next to my gear pile/mountain.
I haven't gotten any negative reactions so far when I tell people that I'm hiking the trail (my mom has). Everyone from friends, to friends' parents, to co-workers, to the woman on the phone when trying to figure out insurance have been positive and excited. I attribute this to the fact that I'm shy/introverted and don't strike up too many deep conversations with strangers who won't understand who I am or let alone why anyone would do this, and that because of Wild most people have at least a cursory exposure to the trail and so the goal of thru-hiking a long trail has become legitimized.
I'm excited. But I'm also nervous, a bottle of subdued nerves, and in denial that this is an actual concrete thing that I am attempting to do. This is all just fun planning, and the assertion that there is actually a trail that goes from Mexico to Canada is some elaborate ruse thru-hikers play on the rest of us; very funny, guys.
But seriously, there isn't much time to be actually excited. There is too much to think about, too many anxieties humming in the background, too many piecemeal aspects of preparation to complete. At the same time that I'm solidifying my commitment to a goal, Canada, I'm processing the reality that a traditional thru-hike of walking every section of the trail may not be as feasible this year with all of the snow. It's possible, but will involve significant snow travel and possibly additional mountaineering gear (I'm strongly averse to wearing boots, especially if they have ankle corsets) and hiking Washington into late September with rain, cold, and the threat of snow.
All I know is that I will just have to wait and see and remain flexible; it's still more than two months until I'll hike into Kennedy Meadows, the gateway to the Sierra. It's all speculation, which I'm sure will get intense once I hit the trail and enter the grapevine.
I go over all of the passes that I hiked last summer in my mind; Forester, Glen, Pinchot and Mather, Muir. This time, their steep scree and boulder pitches covered in feet of slippery snow. Passes which, in summer, are traversed with tight switchbacks that make them no more dangerous than the valleys below. I can't say that I'm not a little bit terrified when I imagine hiking up through the granite-bathtub valley south of Forester, searching for the little notch in the battlements that is the pass.
My hike last summer makes these visions much more vivid and concrete. It's easy to descend into this mental fear-mongering, and the best way to stay sane is to keep thoughts and emotions about the PCT on the back burner, on simmer to keep them on a constant verge of boiling over, and focus on tasks that I can complete with my hands.
So, am I excited? Of course I am. But it's tempered, kept to a buzzing in my stomach, an automatic internal focus on things PCT. I know this won't be easy, and moments of pure excitement are rare. I'm hunkering down and fervently getting ready, while also very-slowly winding down my normal life.
Can I really only be starting in 4 weeks?