Less than 24 hours until I leave. I count down the time I have left at home and not the time until I start hiking. I say goodbye to Reno, my friends, the desert behind the house, everyone at work. The super bloom is here and the hills are bruised purple, the ground studded with five-pointed purple stars. The desert peach has started blooming, gray thorny branches now lush with thick pink flowers, alive with bees and wasps and flies and butterflies. I'm glad I didn't miss the desert peach. I sit in the middle of an ATV path up in the mountains, the wind draining the sun's warmth from my body, my damp cotton tee shirt. Not quite hot, not quite cold. Not really watching the view, just sitting and being.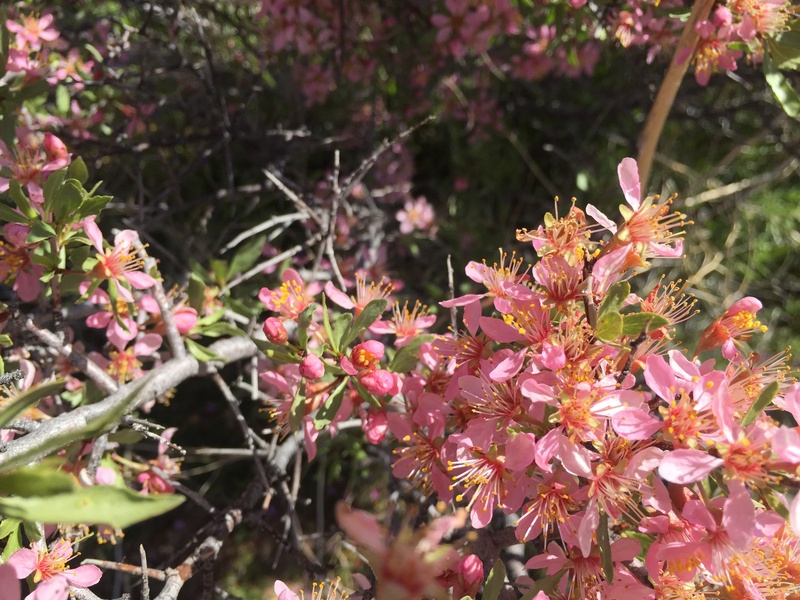 I'm calm, remarkably calm, except in the middle of the night when the anxiety hits and I wander, half-asleep, through my fears. Resupply, leaving home, failing or not being good at this somehow because I'm too young and I don't have experience being on my own. Like a flitting of shapes across my consciousness, disconcerting because they are never concrete or definable, but at the same time familiar. I want to hold them and know them. I am not anxious about the hiking itself. I want to be there. I am ready.
A few clarifications. I am not hiking the Pacific Crest Trail because it is popular, trendy, because "everyone is doing it these days." I am not hiking because of of Wild (which I haven't read or watched). I am not hiking for social media. I am not hiking because I want to get away from home; I will ugly cry when I have to say goodbye to my parents and brothers and dogs. I don't really want to have to leave them.
I am doing this because I have always wanted to do this, because I have to at least give this dream a chance after wanting it for so long.
I cut my hair short on Friday. I love it this way. Long hair was something to keep up and out of the way, a concession to society's expectation of femininity. Now showers are no longer a chore, and my hair sticks up messily in front. I get bed-head, which is awesome. I love it.
I get on a bus tomorrow. I should probably get to bed. I will update you on the long bus ride, or as soon as I can.